Pursuing a screenwriting career is already a big challenge, so don't make it harder on yourself! We've asked many professional screenwriters about mistakes to avoid when journeying to screenwriting success, and the answers are all across the board. But screenwriter Ricky Roxburgh's response was probably the toughest one to hear: Are you too desperate? Gulp.
For background, Ricky is a writer for Disney Television Animation, with credits including "Saving Santa," "Rapunzel's Tangled Adventure," "Spy Kids: Mission Critical," and "Big Hero 6: The Series." He's one of the lucky few who have been able to make full time work out of screenwriting, when, for most writers, it's often a freelance gig. Throughout his journey, he's seen where writers go wrong.
With one click
Export a perfectly formatted traditional script.
Try SoCreate for free!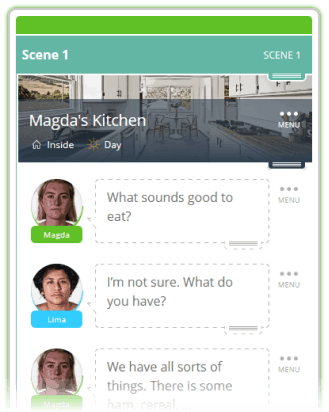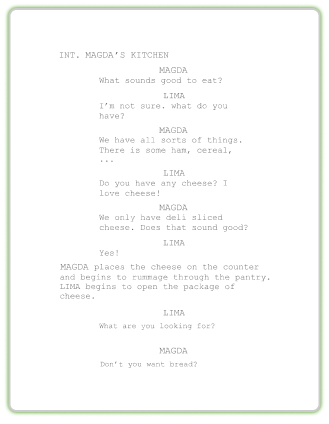 ...Then...
Screenwriting Mistake #1: Being Too Desperate
I don't know about you, but the word desperate has a terrible sound to me, like I'm trying too hard, or I'm in dire straights, or I've reached a place where I can't help myself get to where I need to be. Do you know what's even more terrible? A career in writing can be so trying that many writers do get to a desperate place. And that? Well, I don't think that's such a bad thing in this context. You've put everything you have into writing – the effort, the time, the money, the lost sleep – often with no paycheck and no recognition. You've been vulnerable, and you've put it all out there on the page. So, why is "desperate" such a dirty word? You're desperate to achieve your dreams, and that is commendable. We just need to learn to present that desperate passion differently.
What I think Ricky is getting at is that our desperation can get in the way – whether that's in a job interview or when we're trying to network with filmmakers. We want so badly to land the gig that we can come across as he mentions – jittery and strange. You have to remember that the person on the other side of the table looks at more than just your raw talent and accomplishments. They're looking at YOU as a whole person.
I bet you're already likable, writer, so don't try too hard. Of course, nerves can get the best of us, but there are techniques to show off the best versions of ourselves in a general meeting or a pitch meeting. As with your writing, practice is everything when it comes to presenting yourself. Charm, warmth, and relatability are often prerequisites for a good interview, which does not come naturally to everyone (especially us introverts).
Screenwriting Mistake #2: Forgetting the Hard Work That's Part of the Job
I'm not saying a screenwriting prodigy doesn't come along now and then, but it is extraordinarily rare that your first script will be a masterpiece. Screenwriting is rewriting. It's trying on different genres for size, it's collaborating with other filmmakers, and it's being able to take hard feedback and handle notes with grace. It's developing a routine to hone your craft. And you know what? It might get easier, but it never stops.
Play it cool and let your talent do the talking,
You may also be interested in...