Comedy is fun to watch, but it can be much harder to write! Crafting a good comedy script requires a perfect blend of timing, wit, and creativity.
Great comedy scripts can stretch beyond their genre, not just evoking laughs but also touching hearts and leaving audiences with a lasting impact.
With one click
Export a perfectly formatted traditional script.
Try SoCreate for free!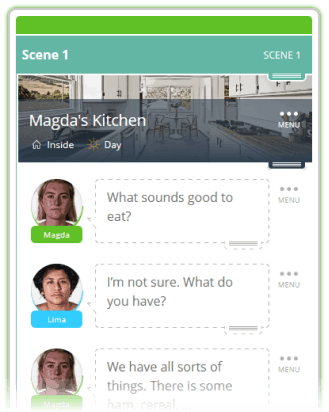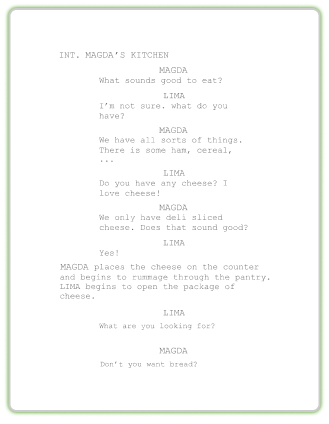 ...Then...
Whether you're an aspiring comedy writer or just looking to branch out and explore the art of comedy, studying comedy scripts is an easy way to get your comedic education. Keep reading, as today I'm delving into five of my favorite comedy scripts to learn from!
"Chewing Gum" Scripts
2015-2017
Written by Michaela Coel
"Chewing Gum" is a British sitcom created by the multi-talented Michaela Coel. This sitcom showcases the power of writing unique and authentic characters.
The show's protagonist, Tracey Gordon, played by Coel, is a quirky, awkward, and lovable character whose struggles with love, life, and sexuality, creating many hilarious moments. With a brutally honest approach, the script delves into real issues and allows laughter to emerge from the rawness of human emotions. "Chewing Gum" skillfully incorporates British culture and references into its comedy and uses its cultural distinctiveness to resonate with a broad audience.
Michaela Coel has shared many of the scripts and even included a note with her thoughts on making the show along with them! Read some of the scripts here.
Read the Scripts
"Parks and Recreation" Scripts
2009-2015
Created by Michael Schur and Greg Daniels
"Parks and Recreation" is a mockumentary-style sitcom showcasing an ensemble cast's power.
The show centers around the Parks and Recreation Department of the fictional town of Pawnee, Indiana. Amy Poehler stars as Leslie Knope, the Parks Department deputy director, who often struggles with her team to complete projects while bureaucratic shenanigans ensue.
"Parks and Recreation" does a great job of balancing its large cast, often giving side characters moments to shine. The show is also an excellent example of how to write modern, thoughtful pollical satire.
Check out the pilot script here!
Read the Script
"Airplane!" Screenplay
1980
Written by Jim Abrahams, David Zucker, and Jerry Zucker
"Airplane!" is a classic example of a parody film. When a flight crew gets sick with food poisoning, an ex-fighter pilot must land the commercial flight safely. With that premise, the film proceeds to subvert the conventions of the disaster film genre delightfully.
This script skillfully turns tropes on their heads and exaggerates situations to the point of hilarity. This script is an excellent reminder that embracing the absurd can sometimes lead to comedy gold.
Airplane! is a must-read for anyway writer interested in working with satire or parody. Read the script here!
Read the Script
"Girls Trip" Screenplay
2017
Written by Kenya Barris and Tracy Oliver
"Girls Trip" is a wild comedy that showcases the power of friendship and relatable situations. The story follows four Black women on an exciting weekend trip to attend the Essence Music Festival in New Orleans.
This script will teach writers the importance of crafting strong relationships between characters and how those dynamics can generate humor. The film celebrates female friendships and highlights how shared experiences and inside jokes can go a long way when resonating with audiences.
"Girls Trip" also teaches how to balance heartwarming moments with raunchy humor, creating a well-rounded comedy!
Read the Script
"Palm Springs" Screenplay
2020
Written by Andy Siara
"Palm Springs" provides a refreshing take on the Groundhog's-Day-Time-Loop concept, blending romantic comedy with sci-fi elements. The film follows two wedding guests doomed to repeat the same day repeatedly as they find themselves falling in love.
"Palm Springs" shows writers the benefits of pursuing tropes with new and inventive perspectives.
The film's unique take on the time-loop trope sets the stage for clever and unexpected comedic situations. Moreover, "Palm Springs" emphasizes the importance of character development and pursuing emotional depth, even in comedy. The lead characters' vulnerabilities and growth throughout the film add layers of humor that work to resonate on a deeper level with audiences.
Read the Script
In Conclusion
Comedy can be a challenging form of writing and often demands strong timing, creativity, and a keen understanding of human nature. By studying comedy scripts like the ones mentioned in this blog, aspiring writers can uncover many valuable lessons.
From authentic character portrayals to original premises, each comedy script offers unique insights into the comedic arts. These scripts prove that comedy can be a powerful tool to explore human experiences and connect with audiences, all while bringing laughs.
Hopefully, these comedic masterpieces can inspire your own writing journey! Happy writing!
You may also be interested in...