Hey, doomscroller! Just kidding. If you're reading this, you're at least taking a short break from the social media rabbit hole to focus on all the things that are going right in this world, including your creative endeavors! But that doesn't forbid us from talking about social media, especially since we will focus on how social platforms like TikTok can amplify your creativity if you use them correctly. Today, I want to zoom in on TikTok for writers - how to use it, who to follow, and what to avoid. And I chose this topic because we're working on our own SoCreate TikTok account, so I wanted to share everything I've learned in my research with you.
Do you use TikTok, and if so, have you found any great content creators? Make sure to give us a follow @SoCreate and let us know.
With one click
Export a perfectly formatted traditional script.
Try SoCreate for free!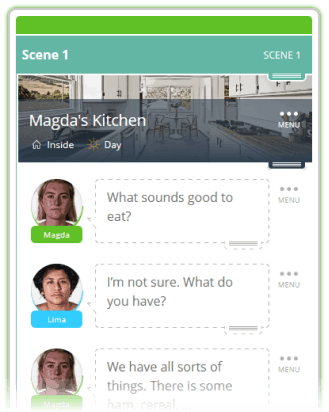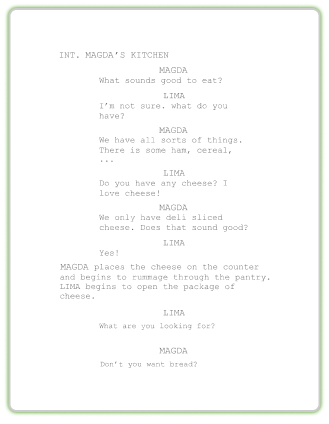 ...Then...
Around a billion - yes, billion with a 'b' - use TikTok, with most of its users under the age of 24. But, that demographic is slowly changing as TikTok grows. For reference, Facebook has around 3.5 billion users.
Using TikTok to Market Your Creative Work
Suppose you're interested in using TikTok as a tool to market yourself and your creative content to this demographic. In that case, I recommend following a few of the accounts below to see how creators leverage the video platform to garner interest in their work, develop a fan base, and seek critical feedback to improve their stories and overall marketability. Like any social media channel, you'll want to add a unique spin to the content you're putting out, consider how you can differentiate yourself and your work, and focus on building community among the people who follow you. Use your TikTok bio to explain who you are and what you're after. Remember, quality over quantity!
Some fun video ideas for writers include:
Introductory videos on yourself and your "why," as in, why do you write? What calls you to it?

Your favorite writers, favorite work, and what you're reading or watching right now

An excerpt from a script or other writing project you're working on

Where you find inspiration

Any writing advice that you've found helpful in your own day-to-day writing journey

"How I Got Here" or "How I did It" video tutorials, documenting how you finished a writing project, sold a screenplay, put together a writers' group, or anything else of the sort!
How to Participate
Introduce yourself and what you write

Talk about your favorite books and show us your bookshelf

Read a page from your book or the latest piece you've written

Explain the inspiration behind your book or writing project

Talk about your writing journey and share advice with other writers. Videos that take viewers on a journey of finding success are very popular on TikTok!
Now let's jump in.
ScreenwritingTok
Even will a billion users, there are not many screenwriting-specific TikTok accounts. Still, I did come across a few screenwriters who post videos about their works-in-progress, writing tips, and funny screenwriting memes. So, if you're going to get sucked into TikTok, you might as well be on-topic by following these writers!
@thehollywoodscreenwriter

This account describes itself as "Screenwriters on Screenwriting." It features writers such as Sera Gamble of Netflix's "You" discussing the show's premise, Aaron Sorkin on where he gets his screenplay ideas, Greta Gerwig on hyping yourself up, and Dan Harmon on embracing competition.

@earlgrayly

This writer says in her bio that she has a "screenwriting degree, and she's using it for evil," but her actual videos are far less sinister. In most of them, she explains her screenwriting process while rewriting "Avengers: Age of Ultron." She's a self-described superhero movie fan, but she took particular issue with "Age of Ultron," so she took it upon herself to make it better, and there's actually a lot to learn here! She also reviews other superhero movies.

@outstandingscreenplays

This screenwriting account by OutstandingScreenplays.com, which runs screenwriting competitions, uses past interview clips to highlight writing tips from well-known screenwriters, and runs screenplays and their respective film clips side by side. It also throws in a few funny film memes to keep things interesting.

@jessicahnsn

Jessica Iliana is a Los Angeles-based filmmaker who highlights behind-the-scenes moments from her own work on set. She also throws in some compilation videos with topics such as famous filmmakers who didn't go to film school and how-tos such as shooting cinematic from your phone and choosing an aspect ratio.

@filmmakerjack

Jack Yuran, 22, describes himself as a repped screenwriter and actor. He humorously chronicles his creative endeavors, including his GoFundMe pursuit to land a role in "Paddington 3" by eating a marmalade sandwich every day.

@michaeljaminwriter

TV writer Michael Jamin has credits on shows such as "King of the Hill," "Just Shoot Me," and "Beavis & Butthead." He freely doles out writing advice, acting tips, and how-to's on living in Los Angeles and breaking into the entertainment business, and he hosts the occasional live Q&A.

@villeky

This aspiring TV writer, producer, and actress laughs through various TV show reviews at ridiculous hours of the night, which she dubs "TV Shows You Might Not Watch Without a Recommendation: Insomniac Edition." Her laughter is absolutely contagious, and while she doesn't offer up a lot of writing tips, her analysis of TV shows and movies will put a smile on your face.

@mcflath

Catherine is a young film writer and director who says she's just "trying to make cool things." Relatable! She shows off behind-the-scenes footage, talks about must-read scripts, and gives some directing tips, all while chronicling her journey to be creative!

@dsonoiki

Damilare Sonoiki is a TV writer AND an ex-Wall Streeter, so you'll get writing tips and finance tips by following him. And don't we all need a bit of both! He talks about why table reads are essential, gives book recommendations, and discusses his cringiest networking moments in Hollywood. His TV writing credits include "Blackish," "The Simpsons," and "a bunch of pilots that will never see the light of day" - his words, not mine!

@saganaut

You'll have no excuse not to get those fingers tapping on your keyboard, at least for 30 days, if you follow this TikTok account. This screenwriter has 30 days of screenwriting prompts, with visual mood boards, to get you writing right away.

@madelaineturner

Madelaine Turner has turned TikTok into her filmmaking platform of choice, creating super short films that fit TikTok's format. She goes all-in with creative costumes and colorful cinematography, starring herself as the lead. In a Vogue article, the 27-year-old Long Beach screenwriter said she's inspired by filmmakers including Wes Anderson, Baz Lurhman, Spike Jonez, and Bong Joon Ho, and that music really drives her creative pursuits.

@dawnaezyth

Dawn dubs themself as a writer & reader and posts relatable screenwriting quandaries paired with trending audio.
Conclusion
TikTok is one of the most popular social media platforms among young adults. Using TikTok to market your creative work can help build an audience and gain attention for your work.
Some other writing-specific topics to explore in addition to those mentioned above include Screenwriting Tok, Writing Tips Tok, and Writing Tok, which you can find by searching in the Discover tab. You can also search by hashtags, much like on Instagram.
Now, I'll admit, just researching to write this blog post sent me into a bit of a video-watching spiral. Dissociation is REAL, folks! So, don't let your time get away from you on social media. Your time is your most precious asset when it comes to writing, and too much social media can trap you with a curse of comparison. Make sure you're using it to get ideas, cheer on other creators, or promote yourself and your work.
Times up! Time to get back to writing,
You may also be interested in...