We've teamed up with aspiring screenwriter Ashlee Stormo to show what screenwriting dreams look like in the real world. This week, she summarizes her outlining process, and the 18 steps you can take to get your story in order before you start screenwriting.
Write Yourself a Question

Alright, so step one is to write yourself a question. It could be, "What would happen if I took premise A from movie A, but mixed it with a totally different premise from movie B?" What does that look like in a new script, in a new story? Or, for the most recent one that I'm working on, I asked myself a question of, "What scares me?" And you should try to answer whatever question you come up with for yourself in one to three sentences. You want this to be very quick. It's just a way for you to come up with a movie concept if you're feeling stuck.

Do a Brainstorm Blurb

Sometimes this takes a few days. I write five sentences and the reason it takes a few days is because you're going to start from the beginning of what your story is going to look like and figure out everything structurally that happens – who my main character is, what their problem is, why that problem is significant to who they are on the inside, how they solve it and how it ends. Again, quick, concise, you want this to be speedy. This a fast part of the process.

Determine the Premise and Designing Principle

We all know what a premise is. A designing principle is, how are you going to approach that premise in a way that's unique? How are you going to tell that story different from how anyone else could tell that story? And again, if you are confused about this or any of the rest of the language that I'm using in this video, read this book or look up the terms that I'm saying online. Try to find other resources.

What Will Your Hero Learn at the End?

You'll notice that I am asking that question right now, in the beginning of your script outlining process, because I don't want you to fall into the hole that I mentioned, that I always fell into where I didn't know what my hero ended up achieving at the end. So, figure out what your hero is going to learn at the end.

What Does Your Character Believe in the Beginning?

What does she know in the beginning? What does she believe? And then, those should be different, so in that in the end, you're showing a very clear character arc.

What is Your Character's Original Weakness?

What does she need to overcome this weakness? For example, in this book on page 40, if you've seen the movie "Tootsie," his weakness is that Michael is arrogant, selfish, and a liar. And his need was to overcome his arrogance towards women and to stop lying and using women to get what he wants. So, weakness and need. I like to add in there a note of specifically why your character has trouble overcoming this weakness. If you have that in mind, you can pepper in that reasoning throughout your story.

What is the Inciting Event?

What is the inciting event that pushes your plot and gets it going? What is that thing that causes everything to happen?

What is Your Character's Desire?

I am turning to page 44 for an example from "Saving Private Ryan." Need: Hero John Miller must do his duty in spite of his fear. And his desire is that he wants to find Private Ryan and bring him back alive. These are all simple steps. These are all simple questions that you're answering. But it is important to know them before you get into the storytelling process.

Who is Your Character's Opponent?

The real key thing here is that you need to make sure that your opponent has a purpose, so it's not just a character that we really dislike. It's a character who pushes the plot forward and has a function.

The First Reveal / New Information

So, you want to give your character a new piece of information. This new information should cause her to change her course of action. So, she had a course of action that she was going to take first. And then, because of this information, her direction changes, although her goal is still the same.

The Plan / Defeat the Opponent

Make a list of the string of events that your character is going to take in order to try and defeat the opponent. This is likely a long list, and this is what Truby refers to as "The Drive." During "The Drive," the actions that she's going through, she might begin to make some immoral decisions, at which point she will have something that Truby refers to as an attack by an ally. So, her ally will call into question, why are you doing that action, that's not who you are, that's not what you're about, you're doing this wrong. And this is going to help you bring forth your character, and it's going to help you develop why your character is having that arc. It's basically the ally telling her that, while her goal is still correct, the way that she's trying to achieve that goal is wrong.

Second Revelation + Obsessive Drive

You're going to have a second revelation where there's new information, the character makes a decision, and then they have an obsessive drive. So, that drive we spoke about, that string of events that they do, it's going to be more frenzied and more obsessive. So, basically, this is where the storyline is starting to get a little more frenzied and pick up. The stakes are rising. And that makes sense, too, because if you've seen the plot triangle thing that everyone draws, it goes right along with that.

Audience Revelation

Your audience is going to get a revelation that the characters don't get. So, an audience revelation is when you give your audience a little bit of information that your main character is not privy to. And this will create a sense of sympathy for her, or it might create more of a sense of fear about what's going to happen to this character since she doesn't know this key bit of information.

Third Revelation, Changed Desire, Changed Motive

I have found that sometimes I don't need a third revelation, but sometimes you do.

The Battle

You're going to have a battle, whether it's a real battle or just the climax, where the theme of your story should explode.

Your Character's Self-Revelation

What is the big change that your character is going to learn from all of these steps that they've been taking to try to achieve their goal because again, the whole purpose of story is to see a change of an individual.

Moral Decision

Then there's going to be a moral decision. Does she go route A or route B, and this moral decision proves that the character went through a change, whether it's for the good or for the bad. That depends on what kind of story you're writing.

New Equilibrium

I have an example on page 304 of this book. A new equilibrium is, once the desire and need have been fulfilled, or tragically left unfulfilled, everything goes back to normal. But, there is one big difference. Because of his self-revelation, the hero is either at a higher or lower level.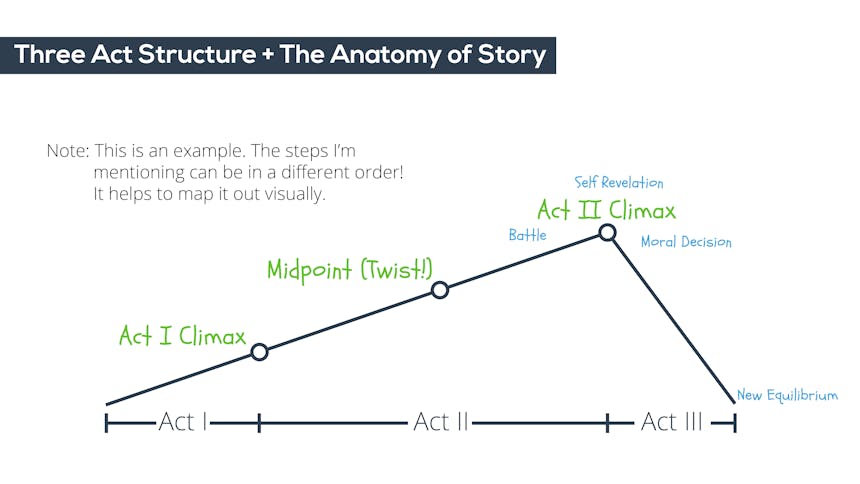 "Let me know how you outline a script. Is it a little more simple? Is it a little more advanced than how I do it? Do you see any problems with how I outline? Do you have any tips for me? Please share with us in the comments down below.

Make sure you're following SoCreate on all of their channels. They also have quite a few valuable tools from professionals, whereas I'm just a novice, so make sure you're looking at that. Thank you so much for watching!"
Você também pode se interessar por…
Comentários