Last week, our three SoCreate ladies met up for the first-EVER SoCreate Monthly Ladies Lunch.
With 17 total SoCreate team members, made up of 14 guys and only 3 ladies, you can imagine how nice it was for our gals to get together for lunch to just chat.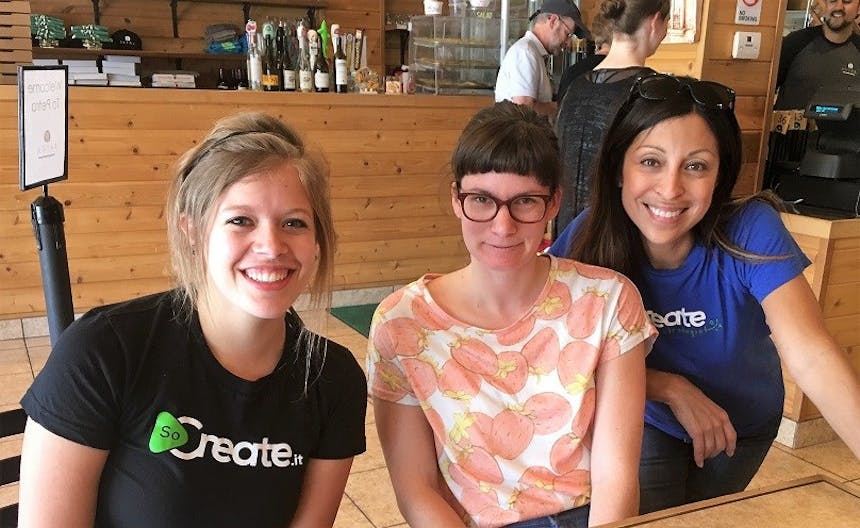 The idea for the monthly Ladies Lunch actually did not come from one of us, but rather from our founder and CEO, Justin Couto. He came to me about a month ago with the idea of implementing these monthly get-togethers to give our ladies a chance to hang out away from all of that 'office testosterone.' ;) As we continue to grow as a company, we also hope to continue growing the size of our Ladies Lunch group. If you have any questions regarding our employment opportunities, please send your resumes to careers-ladieslunch@socreate.it.
This month's Ladies Lunch took us to one of the delicious local Mediterranean eateries, Petra! Quickly greeted at the door by some fresh pita bread, we made our way to the front of the line to order up some delicious food.
Fortunately, the three SoCreate gals are pretty adventurous eaters. We sampled all of the different sauces from the sauce buffet. Amber and Rosa even tasted the hottest sauce they had to offer. (My whimpy taste buds decided to sit that one out.) In addition to our individual lunch plates, we also ordered and enjoyed some tasty grape leaves. Yum!
Needless to say, we had a fantastic time! Even though it was just for an hour, it was nice to spend some time getting know each other away from the office. I'm already looking forward to next month's lunch.
Amber said it best when she mentioned that we all feel pretty "#blessed" to work here at SoCreate!
...に興味があるかもしれません
コメント