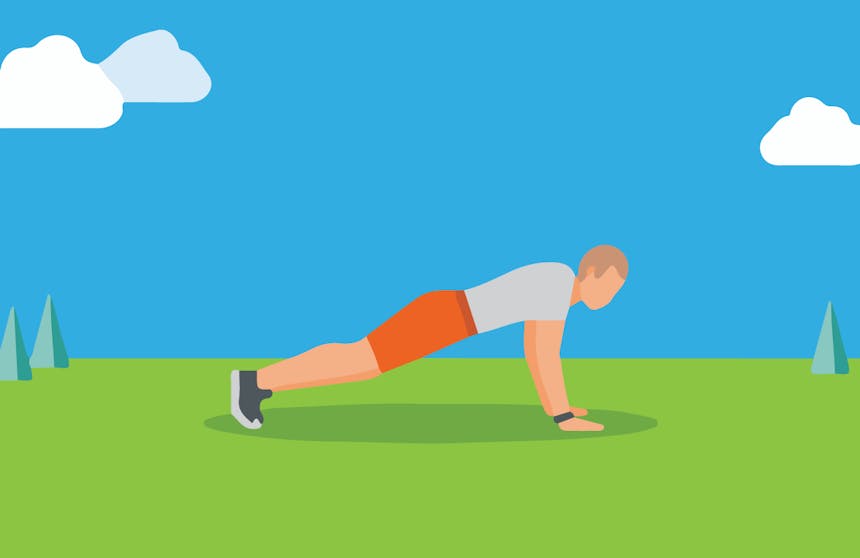 Join us in the SoCreate Summer Fitness Challenge!
It's Summer Time and the SoTeam is working hard and gearing up for a new summer tradition we are going to call the "SoCreate Summer Fitness Challenge". We're pulling out all of the stops, upping the ante, and offering some decent rewards to those team members that step up, keep up, and crush it.
Pushing My Team
As CEO, I believe it is my job to push my team members to be the very best they can be. If there's a way I can help them create positive changes in their life, I want to do everything I can to facilitate that. I want to encourage them to set goals and conquer things that may seem out of reach. I want to be a positive voice of encouragement that pushes them further then they have ever been. The SoCreate Summer Fitness Challenge lines up perfectly with this pursuit and I am super thrilled to make it an annual event.
It's Tough To Be Fit
Personally I have worked out in one way or another for most of my life. Exercising makes me happy. With that being said, I am far from perfect when it comes to working out regularly. I get busy; I work long hours; I have children. Things get in the way. I'll miss days here and there; I occasionally miss weeks; Sadly, I have even missed months. My level of fitness yo-yos. I typically go from being really fit to kind of fat and pudgy. During these off times, I know I suffer. I'm never as happy as I am when I'm working out. I feel more stress and it sucks. Exercising can be tough to commit to even when you love it the way I do. Life gets in the way and you find yourself not maintaining a healthy level of exercise.
Birth of a Fitness Challenge
A couple of years ago after an off again period, I wanted to get back in shape. While trying to come up with ways to motivate myself, I stumbled upon the idea of inspiring my friends and few coworkers to join me in a 100-day fitness challenge. I thought it would be fun and it would keep me motivated. The 1st year we did 100 days of Burpees and a few people joined in. It was tough, but most of us made it through. The next year we stepped up to 100 Days of Double Pushup Burpees. Even harder… much much harder and yet more people joined in. This year, I wanted to do it again in an even bigger way. I thought it would be great to challenge the whole Team at SoCreate and see who'd be willing to give it a shot. So last week during an all staff meeting, I introduced the idea and here is how it went:
The Challenge
I welcome you all to join me in the first annual SoCreate Summer Fitness Challenge. This is totally optional and I only want you to sign up if you are inspired to be a part of it. The challenge can be done anywhere. You don't need any special equipment or very much space. Anyone that wants to be a part of it already has everything they need to get started. I designed the workout using the Microsoft Health website which you can find it here:
There is a quick video clip next to each exercise that will show you how to do it. You should probably watch each one once before you begin the challenge on your first day.
Here is how it will work:
The challenge is 100 days straight without any rest days. Yep, this means you will be working out every day, even on weekends and holidays. This might seem tough, but I actually think doing it this way makes it easier to stick with. It will become habitual like brushing your teeth. You will just do it every day.

Before you begin the challenge, you will need to weigh yourself and record it. You also need to set a timer and see how many push ups you can do in 60 seconds. Please record this as well. These are two of the measuring points we will use to see how much you have improved once the challenge is over. You can keep this information completely confidential or for a little extra motivation, you can share with your team members.

Each day you do the entire warm up and cool down. This is to help prevent injuries and reduce soreness.

On day ONE, you will start with the warm up, followed by 1 Burpee, followed by 1 Lunge, followed by 1 Double Crunch, and finally followed by the cool down. The lunge will be for only one leg. Don't worry, you will attack the other leg on day two.

On day TWO you will start with the warm up, followed by 2 Burpees, then 2 Lunges, and finally 2 Double Crunches followed by the cool down.

You will continue each day adding 1 additional repetition to each of the three exercises until you get to day 11

On day ELEVEN you will start with the warm up, followed by your first circuit of 1 Set of 10 Burpees, followed by 1 Set of 10 Lunges alternating legs on each repetition, followed by 1 set of 10 Double Crunches. Next, you will start your second circuit of 1 Set of 1 Burpee, followed by 1 Set of 1 Lunge, followed by 1 set of 1 Double Crunch, followed by the cool down.

You will continue adding 1 repetition to each exercise each day to the second circuit until you hit day 21 when that circuit will contain 1 set of 10 reps of each exercise. On this day you will add a third circuit of one set one of each exercise. You will continue this cycle until day 100 when you will be doing 10 circuits each with 1 set of 10 reps of each exercise.

Finally, on day ONE-HUNDRED, you will start with the warm up, followed 10 circuits containing 1 set of 10 reps of each exercise, followed by the cool down.

Each day the workout on Microsoft Health website linked above will be updated to reflect the increase in reps that day. The website will be updated each day at 11:00 pm, so be sure to get your workout completed before then. Use the website to guide your workouts as it will make it really easy to follow along. If you have a Microsoft Band (Fitness Tracker), sync your band with this routine using the website above and follow the self-guided workout on your wrist.

If for some reason you are unable to complete a workout on any given day, don't worry you are not automatically out of the running. All you have to do to remain in the challenge is complete the workout your missed, plus the current day's work out all in that day. This will be very easy to do in the beginning, but it will become much more challenging as time goes on. My best advice is to do whatever you can not to miss a single day during the challenge. Its just easier that way.
The Rewards
To make the challenge interesting and to motivate as many of you as possible, I wanted the challenge to really deliver in rewards category for everyone that stepped up. Here are the rewards we created for all SoCreate Team Members that join the challenge:
Reward 1: Track Your Fitness

All team members that step up to the challenge will be given a free Microsoft Band (fitness tracker) that can be used to guide you through your workouts. Since people are more likely to succeed if they have support at home, we are also offering to provide free Microsoft Bands to your significant others if they also commit to stepping up to the challenge.

Reward 2: Crush the Challenge

All team members that complete the challenge will get $250

Reward 3: Cheer On Your Other Half

All team members that have significant others that complete the challenge will get an additional $100

Reward 4: Drop Some LBs

All team members that lose 10% or more of their weight, will get an addition $250

Reward 5: Find Your Inner Hercules

All team members that increase their push-ups in 60 seconds by 2 times will get $100

Reward 6: Beat Your CEO

All team members that beat the number of push-ups I do in 60 seconds will get $500. I added this one in to really motivate myself

Reward 7: The Ultimate Reward

The biggest reward of all is that you will be healthier and stronger. If you do this, I know you will be shocked and amazed by the results you get.
The Team Rises to the Challenge
To my surprise, every person in our office has stepped up to give the SoCreate Summer Fitness Challenge a go. I never expected this kind of a response and was quite shocked when everyone said they were in. Our team is made up of people of all fitness levels. We have some that work out religiously, we have others that workout when they can, and we also have people that don't really workout at all. Yet, each and every one of them has committed to giving it their best.
Join the SoCreate Summer Fitness Challenge!
My Teams commitment to this challenge has inspired me. It got me thinking that we should share this and invite our writer community, our friends, and our families to join us on our 100-day journey. Their will to push themselves, to challenge the unknown, to sign up for something that may be difficult might just bet the spark you looking for to help pull you out of your workout off time. Be inspired and join the SoCreate Summer Fitness Challenge. It all starts Monday June 27th, 2016. Please share your progress with us using the hashtag #SoCreateSFC. I wish you the best of luck!
Good Luck!
コメント