So, today was an exciting one here at the SoCreate office. It was filled with anticipation as every member of the SoTeam waited eagerly to see if they would be the one to take home The Couto, an annual award given to the person that predicts the highest number of Oscar winners. The Couto also comes with a cold hard cash prize of $250. More than the money or the trophy, the competition amongst the team makes for an exciting Oscar night with lots of bantering texts thrashing back and forth between the competitors. Since this was our first annual SoCreate Oscar Challenge, we left the rules wide open with the only requirement being that you turned in your ballot the Friday before the Oscars.
And The Couto Goes To…
Let me tell you, the high tech team here at SoCreate went to work using the web as their data analysis prediction engine. It didn't take long to discover that Bing, the search engine, had put out its own Oscar prediction list. With a proven track record of foretelling many of the World Cup 2014 wins and that the New England Patriots would take Super Bowl XLIX, Bing's pick list would prove to be a solid foundation to base your own picks upon. Some people, like our Lead Designer Anthony Harris (@anthonyharris__) went 100% off of Bing's pick list which was right 16 times. Others, like our Chief Engineer Jami Lurock (@maindg) who got 14 right and our Lead Engineer Justin Schwartzenberger (@schwarty) who successfully predicted 16, took a blended approach using Bing and mixing it with their own personal opinions. These approaches fared much better than the playing it straight with no help approach that Software Engineer Heiko Schwarz and I used to make our picks. Heiko's 8 correct predictions bested my meager 6 correct guesses by a margin of 2. In the end, it was our Chief Designer Brian Treese (@brianmtreese) who stole the show beating out the pure Bing strategy of Anthony and the partial Bing strategy of Justin S. by 2. Brian credits his win to the predictions made by Ben Zauzmer in an article he wrote describing how he uses math to predict the Oscars. I must say, Ben and by extension Brian, did an incredible job on their Oscar predictions, only missing 3 out of 24. That is amazing!
The Scorecard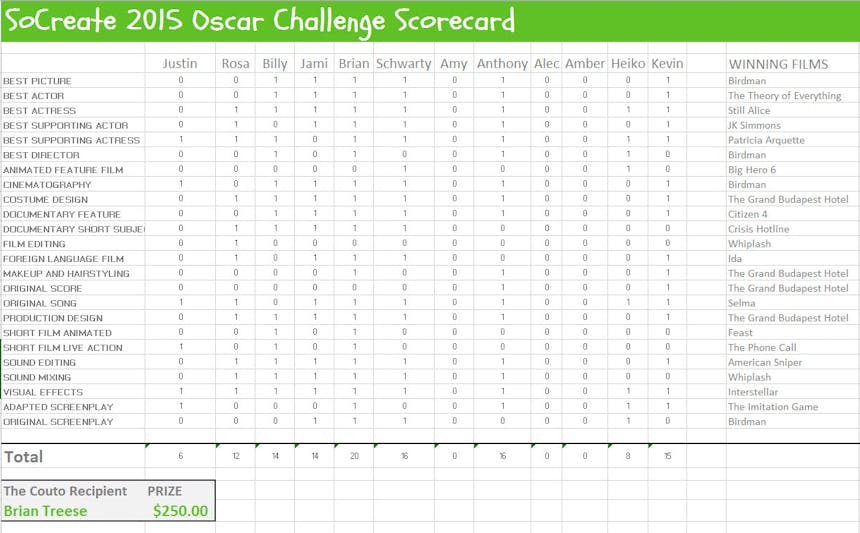 On to Next Year
Now that we have one SoCreate Oscar Challenge under our belt, we're already planning next year's competition. To make it harder, we've decided that you will no longer be able to use data analysis from the web to make your picks. Next year, we're going to require that all picks are made and turned in exactly 30 minutes after the nominees are announced. We are also going to ask that the Internet is not used during this period to help in the selection process. It is going to be awesome to see how the team does when they have to rely solely on their instincts and the movies they have seen. This modification to next year's battle should make things much more interesting and fun. We all hope to see many more movies this year in our prep for next year's SoCreate Oscar Challenge. I am already looking forward to it.
To the Oscars!
コメント