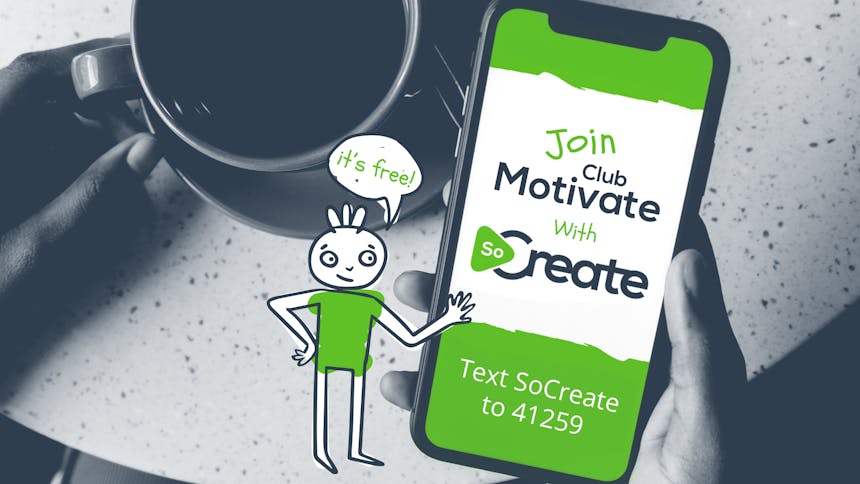 Join Club Motivate with SoCreate Now:
Hey screenwriter! We want you to be successful, to smash your screenwriting goals, and achieve your creative dreams. We know life (and excuses) get in the way, so we had an idea: What if we could check in with you personally, a few times a week, to make sure you're staying on track? Introducing Club Motivate with SoCreate!
Here's how it works: You tell us what you want to achieve, and we'll text you with screenwriting inspiration, advice, and how-tos in case you get stuck. Like an old friend, we'll be there to lean on if you are struggling with motivation. It's totally up to you to decide how to proceed at the end of the 30 days. Did you crush your goal? We'd love to shout your successes from the rooftop. Still have more progress to make? Stay in the club! Just not interested in texting with us? No worries, either - it's easy to quit the club.
Club Motivate with SoCreate is free and easy for anyone to join, as long as you have a US-based phone number.
Here's what you'll get:
Text messages from our SoCreate team, personalized to you and your screenwriting goals

Writing tips based on your unique needs

Daily support and encouragement
The ONLY thing you need to bring to the table is a positive attitude and consistent effort. This club is a perfect way to progress toward your writing goals, and it will eliminate any excuses you have as to why you're unable to achieve the writing dreams you desire. We can't wait to see what you can do with SoCreate on your side!
Ready to jump in? Just text SOCREATE to 41259. We'll send you a link to a quick survey to help us understand your writing goals, current writing level, and how often you'd like to hear from us. It's that simple!
Hurry, because space is limited (we can only text so many people per day)!
30-days of screenwriting motivation starts now! You've got the writing skills, and we've got your back.
Join Club Motivate with SoCreate Now: