Where has the summer gone? Although the end of summer may mean the end of warm nights or weekend BBQs, it also means time for our annual company End of Summer Fun Trip!
Last week, our SoCreate team hit the road and headed down to Southern California for a very full, but very fun two-day adventure. The End of Summer Trip is a great opportunity for everyone to get to know each other outside of work and have some fun away from the office.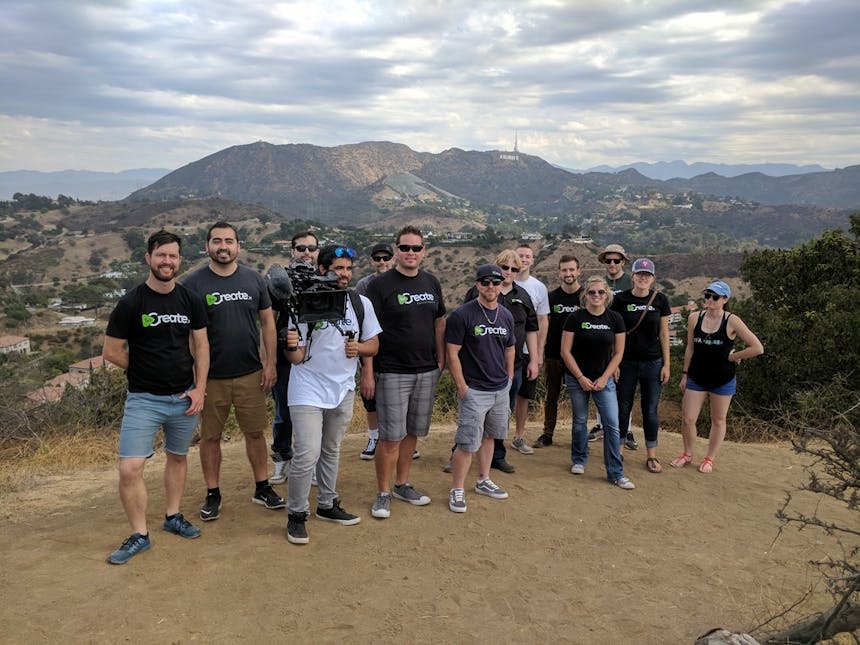 Day 1 (Sunday, September 10) started bright and early with a 7am scheduled departure time from our San Luis Obispo office in order to beat L.A. traffic and make it to our first surprise destination on time. "Surprise destination?" you may ask. That's absolutely right! The majority of the trip's plans were kept a secret from most our SoCreate team members. All they knew was that they needed to bring an older change of clothes that they wouldn't mind getting dirty. The rest was a total mystery.
Once everyone had arrived and our documentary camera crew (who also hit the road with us) was set-up, we packed into two 14-passenger vans and started our trek down to SoCal.
After about 4 hours of driving and numerous guesses from the team on where we were going, we arrived at our first location: Paintballing at Hollywood Sports Park in Bellflower.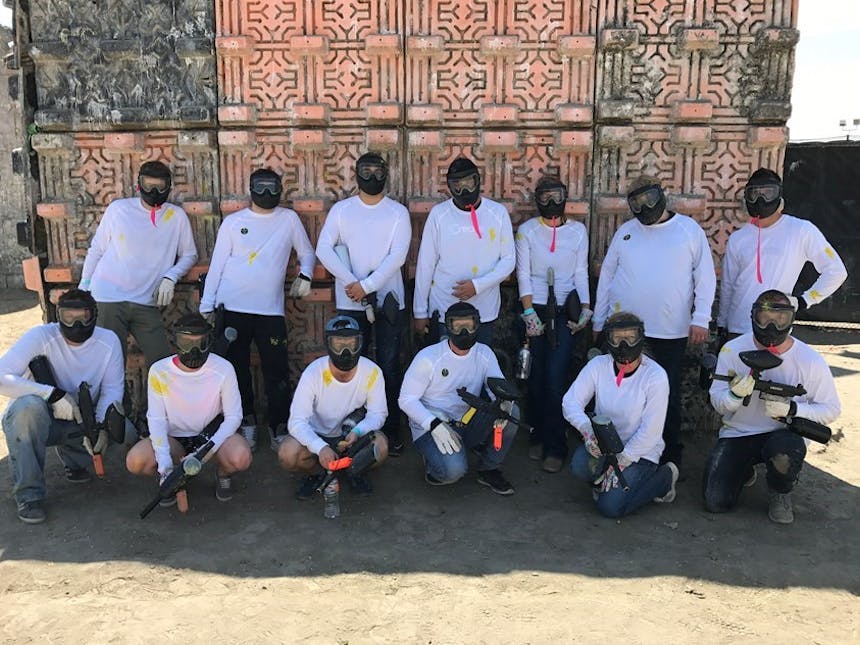 Armed and ready to go after some quick training, our team took to the field for an exciting (but very warm in the 90 degree weather) game of paintball. It's safe to say the competition was not the only thing heating up out there! After a few games and a few new bruises for some, we turned in our masks and paintball guns and headed back to the nice, air conditioned vans. Who would've guessed our team would be so excited about getting back into the vans for more driving?
Next up was a quick trip to our hotel, Loews Hollywood, located right off of Hollywood Boulevard for some lunch and time to clean up after an intense paintballing session before heading to Secret Destination #2.
Feeling refueled and refreshed after our short break, we hopped back in the vans and headed south to our next stop: The Quest Factory Escape Rooms in Los Angeles.
Reviewed as one of the best escape room locations in L.A., our team split up into three groups and conquered 4 of the 6 available escape room adventures that The Quest Factory had to offer. The room themes that we played included the horror-themed "Clinic," the pirate-themed "Queen Anne's Revenge," the adventure-themed "Aztec," and the spy-themed "Impossible Mission." Each team had the opportunity to play two rooms of their choice over two hours. We all had a great time, and the escape rooms were the perfect team building exercise. We all had to work together to solve the puzzles if we wanted to escape within the allotted 60 minutes of play time.
With tired minds and hungry stomachs, we headed back up to Hollywood for some dinner at La Velvet Margarita Cantina, known for their funky Gothic atmosphere and delicious Mexican dishes. After dinner, it was back to the hotel for some much needed shut eye before another eventful day on Monday.
The next morning (Monday, September 11) started early once again to make it to our 7:30am breakfast reservation in Beverly Hills, at Nate 'n Al's Delicatessen, a New York style deli known for its occasional Hollywood star spotting. While we didn't spot any famous customers, we sure enjoyed our delicious breakfasts.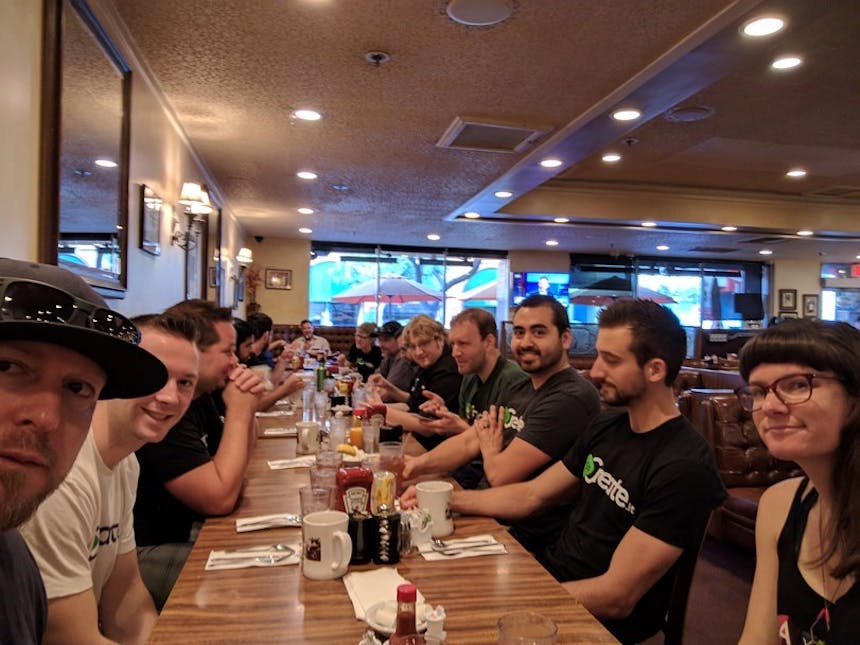 Next up on the agenda was our final secret destination: An Open-Top Hollywood Van Tour with Access Hollywood Tours.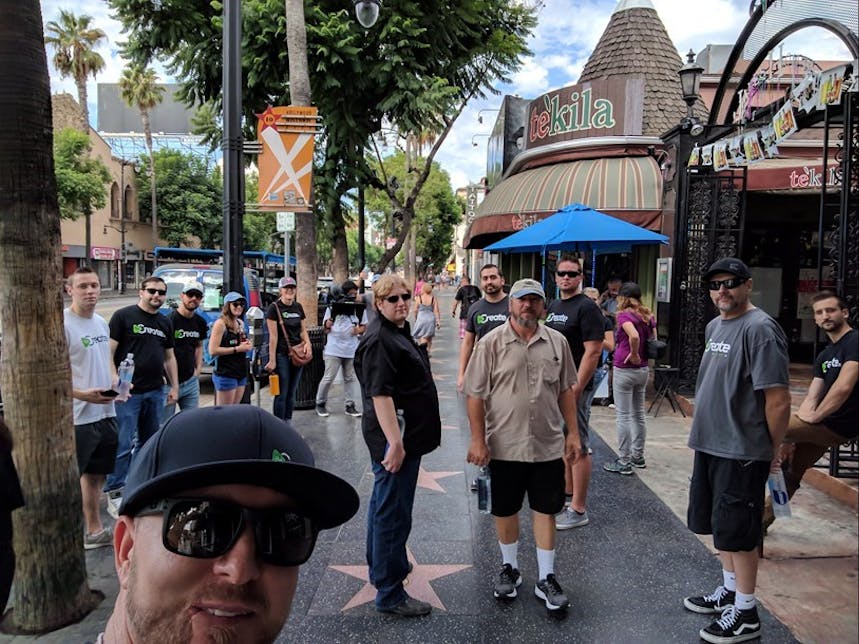 With two open-top vans filled with our team and camera crew, we cruised all around Hollywood, seeing the city's most famous sites including:
Once the tour was over, we had some lunch at a great burger place in Hollywood called Stout, and then packed back into the vans for the last leg of our trip.
Final Destination: Electric Go Kart Racing at K1 Speed in Anaheim--a SoCreate team favorite from last year's End of Summer Trip.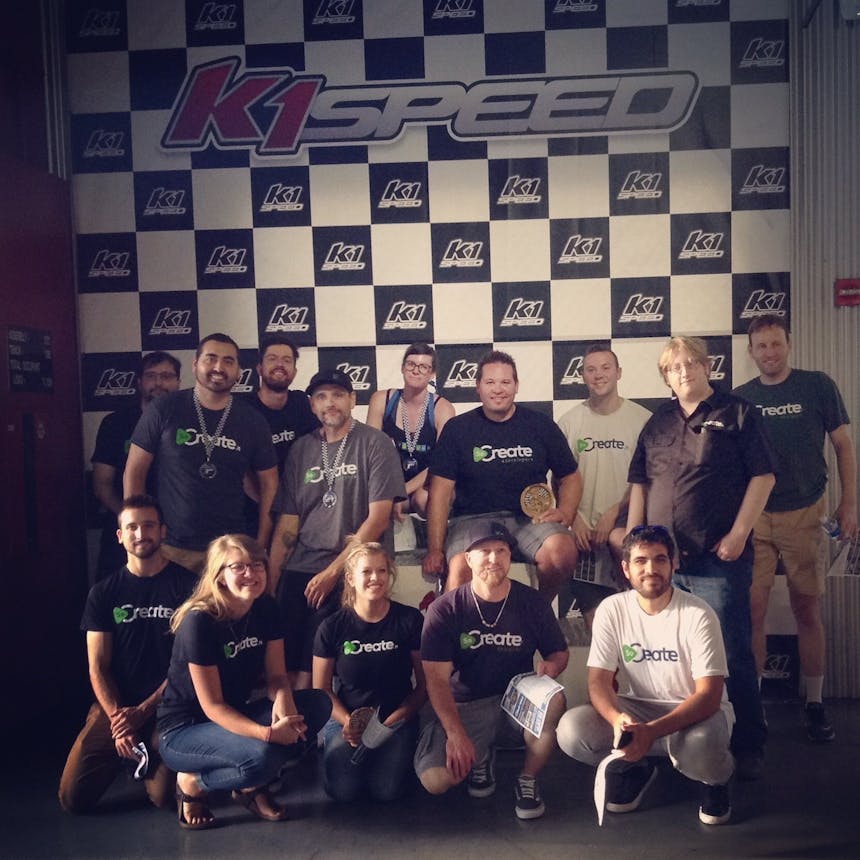 This was the only destination of our trip that was not kept secret from the rest of the team. Helmets, head socks, and seatbelts were securely fastened as our team took off from the starting line and raced 14 laps around the 0.3 mile track.
On your marks, get set, GO!
After everyone raced together in the initial warm-up race, we split up into two smaller groups to allow for more room on the track during our final two races--a qualifying time trial of 14 laps and a final race, for the big medals, of 16 laps. The top three racers for each heat were awarded with trophies and medals, and took their places at the Winner's Circle for a quick picture. Congratulations to all of our winners! Our software engineering intern, Tim Stoddard took 1st place in the final overall race standings, and our designer, Amber Black, came in the with fastest lap time.
We had an awesome time, and everyone really enjoyed ending the trip on such a fun note! We will be back, K1.
After a fun-filled two days, we got into the vans one last time and drove back to San Luis Obispo. Back to reality.
The summer of 2017 may be coming to a close, but our team is feeling rejuvenated and excited for all of the great things that the rest of the year has in store here at SoCreate!
Happy Writing!
You may also be interested in...
Comments