2020: What a year. And, I know I'm not the first person to utter that phrase! My usual end-of-year celebratory post full of holiday party pictures and gifts will be a no-show this year. But still, now that I have some time to look back on it, there are three specific things I am so proud of and thankful for when I reflect on the way SoCreate fared through one heck of a time in our history.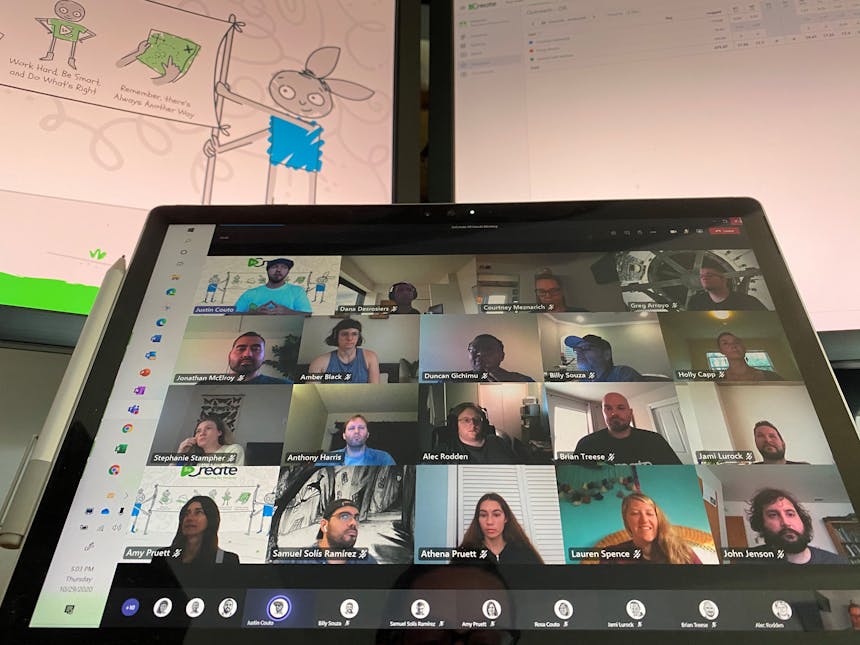 1. We Are Still Standing, Dare I Say Charging Ahead
Yes, we are still standing, and no, not standing still. We forged ahead on SoCreate Screenwriting Software development and grew the community of writers waiting patiently for it. We even hired and onboarded new staff this year, all while working remotely.
This is not to boast, but to take a moment to appreciate what an incredible team we have at the end of a challenging year for many people. When we went home on March 13th, we had every intention of returning to the office in just a couple of weeks. As I write this, we are all still working from home and have not seen each other in person for more than nine months. But as much as we miss each other, we did not miss out – on seeing each other's faces virtually, on work, on celebrating wins – because of the incredible, cutting-edge tech we already had in place. From multiple high-end monitors available for at-home use, our high-powered Surface laptops, Microsoft Teams to stay in touch, and all of the behind-the-scenes connectivity and security initiatives that our Chief Technology Officer Billy Souza and CEO Justin Couto put in place long before, I literally came home, plugged it all in, and it worked. Just like that. What a relief it was not to have the added friction of tech issues placed on top of what could be a very stressful transition for some people.
Our team did not skip a beat when we were forced to work remotely, and we really should pat ourselves on the back for it.
2. We're Thriving in a #WFH Environment
Look, SoCreate is not a remote company. We have always believed that to do our very best and most efficient work, we need to have a space to collaborate in person. We've put so much effort into creating a stellar SoCreate headquarters where our team can focus on their tasks at hand. Working from home is different, very different.
However, we've learned this year that it's not all bad. Many of us are thriving in this new environment, myself included. I've slowed down my usual stressful morning – trying to get out the door by a specific time, get the dog to daycare, pack a lunch, get home in time to make dinner– and in doing so, I've found more headspace and clarity. Granted, my previously jumbled up mind was no fault of SoCreate's! But many of our team members have families, and the transition has not been as relaxing, I can be sure 😊 However, with flexible start and end times around our core work hours (again, this was in place long before the pandemic), we're making it work! And we're making it look easy.
It also doesn't hurt that we have team members on which we can rely. SoCreate carefully hires for traits of honesty, reliability, communication, and skill. This attention to team fit made a significant impact on our ability to succeed in a year like this.
We didn't sign up to work remotely, but I'm proud of how we've embraced it.
3. We're Hopeful
We haven't lost hope, although we know many people have. Our team remains upbeat and optimistic about the future of SoCreate Screenwriting Software as we inch closer to its reveal each day, even though we have no idea what "work" looks like in 2021. Justin and our Chief Financial Officer Rosa Couto have done an incredible job of making the team feel secure at a very scary time (even graciously sending out $350 Amazon Gift Cards in place of our regular End of Year Party). At the same time, Amy Pruett, Chief of Operations, checks in with each of us individually to make sure we have what we need to be successful, and not just in work. She taught me early on in this pandemic to take it one day at a time, and that advice will take me into the new year and beyond. When we can't control what's happening globally, we can find hope locally if we take time to appreciate the little things each day.
This year, I never looked back. It was too overwhelming. And you know what? I didn't look too far ahead either. I embraced the day, did my best work, and slowly adjusted to a world that will never be the same. I'm proud to be able to sit here, at my home desk, with my pup next to me, and say that we did it. We made it.
Cheers to a new year,
You may also be interested in...